Doors Hand Operated
Doors Hand Operated

Easily customizable. For all your maritime needs.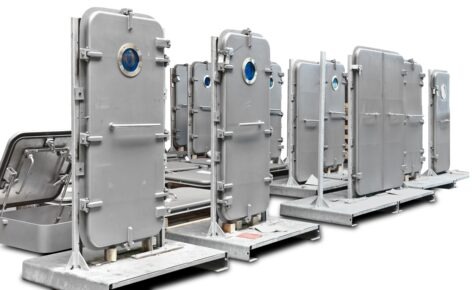 ---
Need assistance?
Get in touch with our advisors or visit the
support page for assistance.
About our product catalog
Winel is one of the leading global manufacturers of watertight sliding doors and hinged doors for ships and the offshore sector. Our high quality doors can be found in almost any sector in the maritime industry and we offer several different types, which are available in a wide range of sizes and with various options to assemble a custom made door at your requirements.
Over the years we have put considerable effort into offering maintenance free and easy to install products to make life easier and safer on board. Our hinged doors for example, give a 100% watertight seal and are made to fit the toughest conditions. Splashtight, weathertight and watertight central closing doors are built according to seagoing rules and regulations. Each sliding door includes a (hydraulic) power unit and watertight control box, and is tested for water pressure. Our proven design is easy to adjust and maintain, and seals can be replaced within minutes. This results in a lower cost of ownership.
Musketeer: our world renowned closing system
excellent operating system; A stainless steel central closing mechanism with a quick acting handle on both sides. 
The main advantages of the Musketeer system are:
Ultra-light operation, i.e. a force transmission of 1:33

All closing points are adjustable

Self-braking mechanism (clips are prevented from loosening through vibrations)

Fully self-greasing mechanism, maintenance free

Only one feed-through (handle)

Stainless steel 316 (L) central closing mechanism with quick acting handle.
66
---
experience in the global maritime industry
97,5%
---
of fleets are returning customers
Vessel types
Our products and services are catered to the offshore sector and every major shipbuilding market, ranging from merchant vessels, dredgers, cruise ships, ferries, roros to mega yachts and naval ships. We are based near major inland waterways connected to the North Sea, making it possible to handle and transport big shell doors and platforms for any type of vessel.
Other services
For spare parts, installation, refitting or maintenance, have a look at our service overview page. If you have any questions, don't hesitate to contact us.