Beach Club & Sea Terrace platforms
Beach Club & Sea Terrace platforms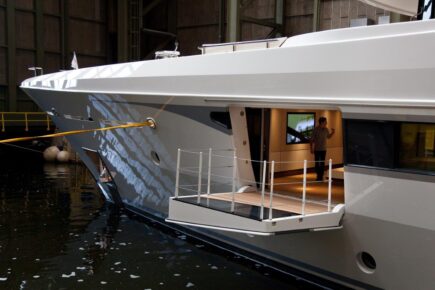 Information
General
The ultimate way of relaxation with friends and family on board is done with a view that reaches as far as the horizon. Our downward opening doors and platforms offer your just that. Open up your yacht with a bottom hinged Sea Terrace or Beach Club Platform; enjoy the view and experience unlimited freedom.
Bottom hinged doors or platforms offer you countless options like sea terraces, beach clubs, bulwarks, transom doors, balconies and many more. We can fulfill any thinkable option turnkey and within your time limits. Feel free to let us help you with any detail you like prepared such as: lights, pop-up cleats, railings, cameras, teak, etc.
Turnkey and on time.
With our engineering, production, assembly (Factory Acceptance Test included), installation on site and commissioning all under one roof, your wishes can be delivered on time and without compromise.
View our solutions
Downloads
contact us
Contact
Contact
"*" indicates required fields